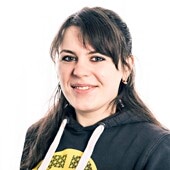 Kateryna Streliana
Mathematician
Where are you from and how did you end up at Play'n GO?
I am from Ukraine. I was writing my master thesis for Play'n GO. So here I am.
What do you do at Play'n GO?
I do math for our games and provide math support for our company. Making people in office happier.
Describe Play'n GO in three words
Flexibility, modernity, quality.
What about Play'n GO do you love most?
I really like a comfortable working place, flexible schedule, great people to work with.
What's your favorite Play'n GO game?
What about your job do you like most?
Variety of tasks I'm working with.
Tell us something you are really proud of in your work?
That numbers shown in our games correspond to reality.
What is the most inspiring part of your job?
Finding new ways of solving problems.